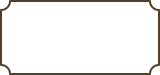 Aged 15, Arthur Ryan was a Post Office Messenger Boy. He rose through the ranks to become the London Regional Director and received the CBE.
This is his story of study and endeavour.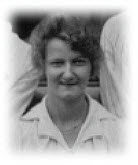 Marjorie Dee was born at 1.30 pm on 30 January 1898 at 95 Fairholt Road, Stoke Newington. She was the youngest daughter of councillor and local businessman George Dee and his wife, Annie.
After attending Oldfield School at Stoke Newington, Marjorie became a pupil teacher. She then attended Avery Hill College, Eltham, London. This had been established by the London County Council as a residential teacher training college in 1906.
It appears that she had some difficulties with the College rules. Her father wrote some encouraging words on 5 March 1918: 'I am afraid you are having a very bad time at college...it may be that you think some of the rules are not right, but try to get them altered without making any bother, for you have to please everyone including the Head....there is one thing very certain: the girls must obey the rules until they are altered'.
The Ryans - the mail line
The Ryan family lived at 38 Lavers Road, Stoke Newington which was less than a mile from one of the Dee's Stores in Church Street, Booth painted this road pink to indicate that its inhabitants were 'fairly comfortable...with good ordinary earnings'. Arthur James Ryan was born on 10 October 1900.
Arthur's great grandparents, James and Lucy Ryan were both Catholics, born in Ireland. His male ancestors were men of letters - they delivered them. His grandfather, Stephen James Ryan was a Post Office letter carrier in 1881 and a postman ten years later. His father, also Stephen James, was a telegraph messenger when he was sixteen. In 1901, both Stephen and his brother, William were postmen and their sister, Ada, married a postman (aptly named Franks).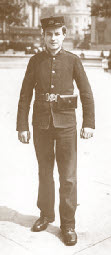 Arthur's is a classic story of a boy starting at the bottom and rising to the heady heights of the award of a CBE. At fifteen, he followed his father's example and joined the Post Office as a boy messenger. The next year he passed the examination to become a Boy Clerk and in 1918 he became an Assistant Clerk following another successful examination. Sorted!
Towards the end of the Great War, he served in Ireland as a telephone switchboard operator with the rank of Sapper. In 1919 Arthur attended the School of Accountancy which levied a fee of ten guineas.
He rejoined the Post Office but spent many of his evenings at the City of London College where he studied French, Geometry, Chemistry and Shorthand. The fees for one term were £1 5s 0d. Clearly, Arthur was determined to improve his position in life and had an appetite for learning.
On a social and sporting level he joined the Brownswood Tennis Club. George Dee was involved with the Brownswood Bowls Club and his daughter, Marjorie played tennis there - and that is how they met.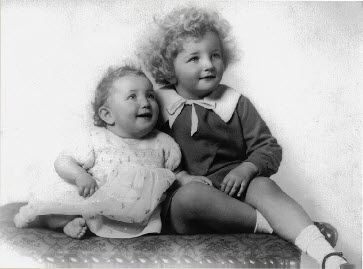 Arthur and Marjorie were married on 8 May 1926 at St Marys, Stoke Newington. My mother and Joyce Saunders, who were Marjorie's nieces, were among the bridesmaids. Unusually, there were four witnesses to the marriage who included Arthur's father, Stephen, and Marjorie's mother, Annie Dee.
Arthur was assigned to work at Ipswich (a posting?) as an Assistant Surveyor and it was while they lived there that Arthur and Marjorie took special delivery of two daughters in 1930 and 1933.
In 1935, the family were 'redirected' to Portsmouth and lived at Festing Grove, Southsea. This meant that Marjorie could see more of her eldest sister, Eadie, who was also living in the city.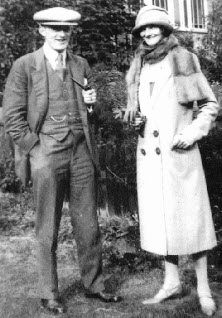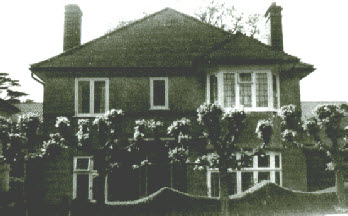 Later, Arthur was promoted to Assistant Controller and the family moved back to London to a detached house at 32 Arlow Road, Winchmore Hill (below). Before the war, Arthur drove a Lanchester car.
In 1939 it was Marjorie's turn to care for her mother, Annie Dee. The family moved to 17 Woodville Road, Bexhill to escape the anticipated wartime blitz of London. During the war, Arthur was seconded to the Ministry of Fuel and Power as Assistant Secretary - an appointment which brought him within the orbit of the future prime minister, Harold Wilson.
Arthur's career continued to progress - 1941, Controller; 1944, Deputy Regional Director; 1949, to his retirement in 1960, Regional Director of London. All the while he fought running battles with the Union of Postal Workers who many believe were and are a notoriously 'bolshie' group.
At Christmas, during the seasonal avalanche of mail, he would be collected from his home by a chauffeur driven car and taken to the sorting office at Mount Pleasant to see how the staff was coping.


32, Arlow Road, Winchmore Hill
Arthur and Marjorie with their two daughters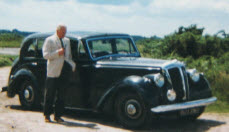 When he retired from the Post Office, he received the CBE. He was also a Freeman of the City of London. An impressive finale for a boy messenger!
The couple had a passion for golf and after Arthur's retirement they moved back to Bexhill at 226 Cooden Drive which was near a golf course. Arthur was driving a second-hand Daimler (shown left).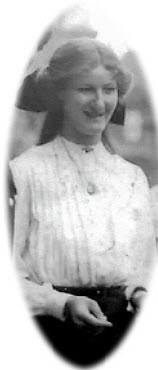 Marjorie had a hip replaced and this was to affect her for the rest of her life. The cement didn't gel, the joint became loose and the resulting repair operation was not a success.
As a consequence, she suffered a fall in the kitchen. She also suffered from poor eyesight due to haemorrhaging of the retina and diabetes, complications from which resulted in her death on 3 March 1983 at the age of eighty five.
Arthur wrote that Marjorie 'was really wonderful throughout. She suffered considerably for a long time particularly in the last twelve months. She did however accept her afflictions with dignity and fortitude and never complained'. A son-in-law confirms this: 'She bore her afflictions with great stoicism and fortitude in spite of botched operations'.
Marjorie is remembered with affection. A nephew says that she was his favourite aunt - she was 'happy, light-headed and flippant'. A son-in-law described her 'as easy to talk to....very nice, kind and pleasant - a much more light-hearted person than her husband'. She was willing to express herself forcibly if aroused but had a much lighter touch and a sense of fun. She was 'a product of her upbringing' with a sense of what was right and proper. Her father, George Dee, perhaps somewhat subjectively said she was always 'genuine and trustworthy - what I would call a proper English girl'.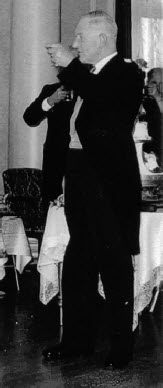 Arthur continued to live at Bexhill until moving to Abbeyfields Home at Stevenage. There he had a mishap while bathing. He was moved to a nursing home at Gosmore, (a village between Hitchin and Luton in Hertfordshire) where he was near his daughter and her husband. He died there shortly afterwards on 12 January 1990.
As well as his love of golf, Arthur enjoyed bird watching holidays on the Norfolk Broads. My mother commented on 'how beautiful the garden was looking ...' after a visit in the 1980s - another interest shared by Arthur and Marjorie. He was often photographed with his pipe.
Arthur apparently sometimes 'seemed a little aloof'. 'At first acquaintance he appeared a little daunting...(but) once one got to know him he was fairly easy to get on with and quite friendly'. Although he was an avid reader with an eager thirst for facts which he expressed with erudition, there were some subjects which were taboo. His views rarely changed and could be expressed strongly. 'His was an uncomplicated character with a simple view on life'.


Above: Arthur and Marjorie 1923c and their daughters.