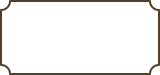 The London-born daughters of George James Dee (1858-1924) had a fanciful notion that their family had descended from John Dee - a sixteenth century sorcerer, astrologer, philosopher and mathematician who was prominent in the court of Queen Elizabeth I. However, the Dee pedigree has not been established and despite several attempts, the Dee line when researched backwards peters out in around 1715.
William Dee (1715c - 1771)
The earliest traceable Dee is William (my greatx5 grandfather) who died at Upper Clatford, Hampshire in 1771. Ironically, it was his death which furnishes most of the information about his life as he left a will and a readable headstone still stands in the graveyard of the local parish church. So, what can be gleaned from these sources?
His monumental inscription helpfully records that he died on 23 September 1771, aged fifty-five - so William was born in 1715 -16. Unfortunately, I have not discovered the parish records which give details of his birth or of his parents. It is his will (held at Hampshire Archives), dated 6 March 1868 which provided some facts about his family. The following is an epitome: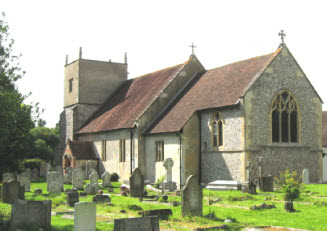 William was a horse doctor from Upper Clatford. His brother, John Dee, and his brother-in-law, Thomas Dowling were nominated as his executors. His estate was equally divided between his two sons, Thomas and William Dee. His unmarried daughter, Mary Dee (who was living with him in 1768), was left £5 to 'buy her mourning' (clothes) and a guinea to buy a mourning ring. She was also to inherit William's late wife's side-saddle and bridle.
With this information, it is possible to search for William's marriage to Thomas Dowling's daughter. William married Anne Dowling at Upper Clatford Church (right) on 30 December 1746. There are details in parish records of the baptism of the sons mentioned in William's will.




William Dee
(1715c - 1771)
Anne Dowling
(1723 - 1764)









William Dee
bap. 24 Apr 1750 Andover
Thomas Dee
bap. 23 Nov 1747
Upper Clatford

One might think that it should be possible to find more details of William's parents - especially as William was not a labourer, but enjoyed a reasonable standard of living, as we shall see. But there is no record of John or William Dee's baptism near Upper Clatford.
There is a family of Dees about twenty miles away at Droxford and the Meon Valley in Hampshire during the early eighteenth century. Several of the men-folk were blacksmiths and some left wills, but even with these encouraging similarities, a link with our William Dee cannot be forged with certainty.
Information about William's health and wealth may be deduced. He died at a relatively young age, fifty-five and according to his will he was 'weak in body' for at least three years before his death.
There are several signs that William had some personal fortune. His estate was large enough to justify a will and his children could afford a headstone. When he and Anne married, they did so, not after the reading of banns in church, but by licence which was obtained from the diocesan consistory court - a method of observing the legal niceties which was often preferred by more affluent families. William's father-in-law, Thomas Dowling, was a local yeoman farmer and would have preferred his daughter to marry within his social class. Incidentally, when William married, his home parish was the town of Andover, which is just to the north of Upper Clatford.
William Dee - horse doctor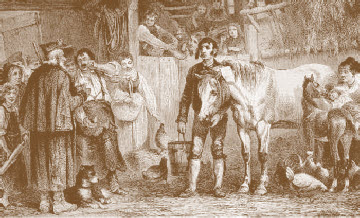 Whether dragging ploughs or pulling carriages, horses were essential in eighteenth century Britain and their health was a constant concern. When they were sick, call for the horse doctor!
It was his charge to keep horses pulling on the highways and working in the fields. He was what we would call today a vet/farrier - a skilled craftsman who could prepare a horse's hoof for shoeing, fit the shoe by nailing and then apply the finishing touches. There was an old saying - 'No hoof; no horse' because the condition of horses depends on strong hooves to support them.
But the work of the horse doctor was far more complex. He was also responsible for horse's teeth. These are constantly growing and sometimes wear into sharp edges and points which cut lips and rake the sides of mouths. The result is a horse which is difficult to control and which loses weight because it is unable to chew food. Among the horse doctor's tools was an eighteen inch rasp with a wooden handle and rounded edges which removed rough edges. Unlike humans visits to the dentist, horses seem to find the filing of their teeth soporific.
Horse doctors also had potions and recipes to deal with disease, purging, cholic, worms, the staggers, broken wind and other disgusting equine ailments. Many were the buckets of mash which were mixed. Also, if horses went lame or were foaling, then the horse doctor was summoned.
Several later writers drew attention to one noticeable aspect of the horse doctor - 'He sure smells like a horse doctor!'. Mark Twain wrote: 'The horse doctor came. In the matter of smell he was pretty aromatic - in fact quite horsey.'
In the nineteenth century, horse doctors became known as farriers who specifically shod horses with shoes made by the blacksmith. The general well-being of horses became the speciality of the vet.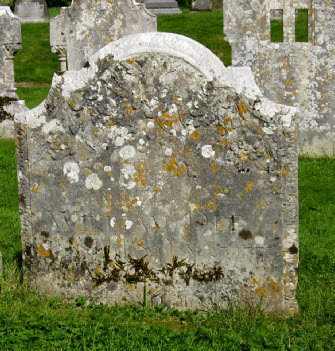 There can be little doubt that William was from a family which was of a higher social class than a labourer. He was literate (signing his will) and it is unlikely that he would have become a horse doctor if he had modest origins.
From a family historian's viewpoint, it is frustrating that more cannot be discovered about his immediate family, even though Dee is a fairly uncommon surname and his will gives information of who, in his family, was alive in 1768 .
A search of the Hampshire Burial Index, gives no clear details of the death of his brother or children, Thomas and Mary. Perhaps the family were more associated with Berkshire as the county boundary lies fairly close to Upper Clatford.
William was buried (right) on 26 September 1771 in a plot at Upper Clatford church beside his wife, Anne.
William Dee (1750 - 1824)
William Dee, my greatx4 grandfather, was baptized at Andover on 24 April 1850 and lived for much of his married life in the town. He was literate, signing a legal document.
Only fragments of his family's life can be pieced together. He married Jane in around 1772 although the exact date, place and her maiden name have yet to be found. The couple had seven known children. Their first child, Mary Ann, was baptized at Upper Clatford and the last five were baptized at Andover.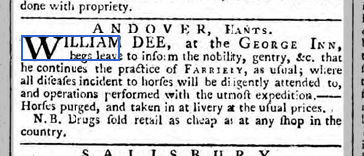 As the advertisement (right) shows in 1775 William was trading as a farrier at The George Inn, Andover (see below) of which he was also probably the inn keeper as five years later, on 28 April 1780, William was assigned a mortgage to a house on the east side of New Street, Andover and he was described as an inn holder. The 1784 Hampshire Directory also places him at The George Inn, Andover. However, on 12, 13 June and 1 July 1786 , William (described as a farrier and druggist) appeared before a bankruptcy court held at The Angel, Andover.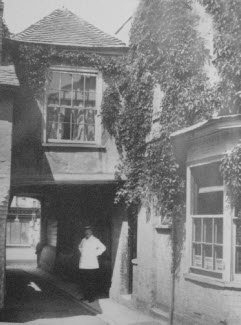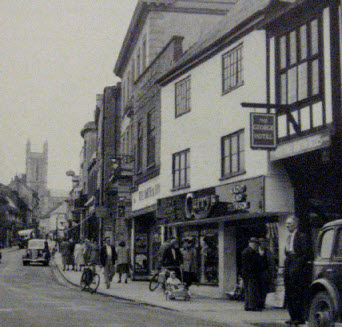 The Universal British Directory (1793-98) notes William as continuing to trade as a 'horse doctor' in the Andover area. He probably left the town in around 1806 - his home was Upper Clatford according to the notice shown right and the mortgage on the New Street, Andover property was relinquished on 24 August 1808 when he was still described as a farrier. In October 1814, he is listed as a creditor of the insolvent debtor, James Banks of Stockbridge, Hants.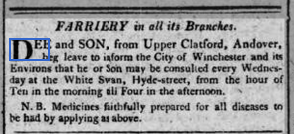 On 20 January 1826, the Court Baron noted that 'William Dee died Easter Monday 1824 (aged 74) - one of the lives by which a leasehold messuage (house) and one yard (plot) land belonging to Mary Hooper are held'.
My greatx3 grandfather, John Dee was baptised at Andover on 23 May 1783. He moved with his parents to Upper Clatford in around 1806 and was working at a farrier with his father in 1814.
When he was aged thirty-six, John married Andover girl, Ann Pring, at St Mary, Newington, Southwark, Surrey on 22 August 1819.
The couple had three known sons between 1820 and 1825 each of whom was baptized at Upper Clatford.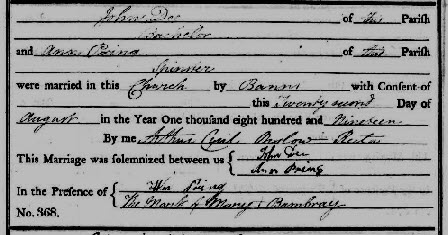 After his father's death, for some reason there was a delay in winding up his father's estate as John was not appointed as administrator until 1836. He was able to sign the legal document which showed a degree of education.
John was working as a farrier through the 1820s and would have lived through the 'Swing Riot' that affected Upper Clatford in 1830 (See link: Swing Riot).
In 1841, the leased family home was falling into disrepair. In 1820, the Court Baron reported that the garden wall and stable wall of the cottage 'in lease to Miss Hooper was out of repair' and, following Mary Hooper's death in 1832, the buildings were 'in decay for neglect of repairing' and the 'whole buildings are in a dangerous state and in all probability will fall down'. Hardly a fit home for a prospering tradesman!
A further clear sign that the Dee's star was on the wane was that John's sons were not following the family traditional trade as farriers - two were agricultural labourers and his third son was a servant at Clatford Rectory.
The 1841 census recorded John with his sons (although Ann was absent) living on the main street of the village with William Smart as his neighbour, apparently. William's daughter, Lucy, was later to marry John's son, William John. It was probably this hovel that was tumbling down as the 1841 Tithe Map shows the Dees living elsewhere in the village in a cottage and garden occupying 18 perches which was rented from Thomas Taplin.
Perhaps it was economic necessity which forced John and Ann to move to London. When John died on 26 April 1854 after a week of paralysis (probably following a stroke) he was living at 1 Elm Court, Holborn. He was described as a vet. The informant of his death was his daughter-in-law, Lucy Dee who had made the journey from Nine Elms, South London to be present when he died.
In 1861, the widowed Ann was living with her unmarried son, Thomas, at 4 Elm Court, Holborn. Ann was a schoolmistress and Thomas was a brewer's servant.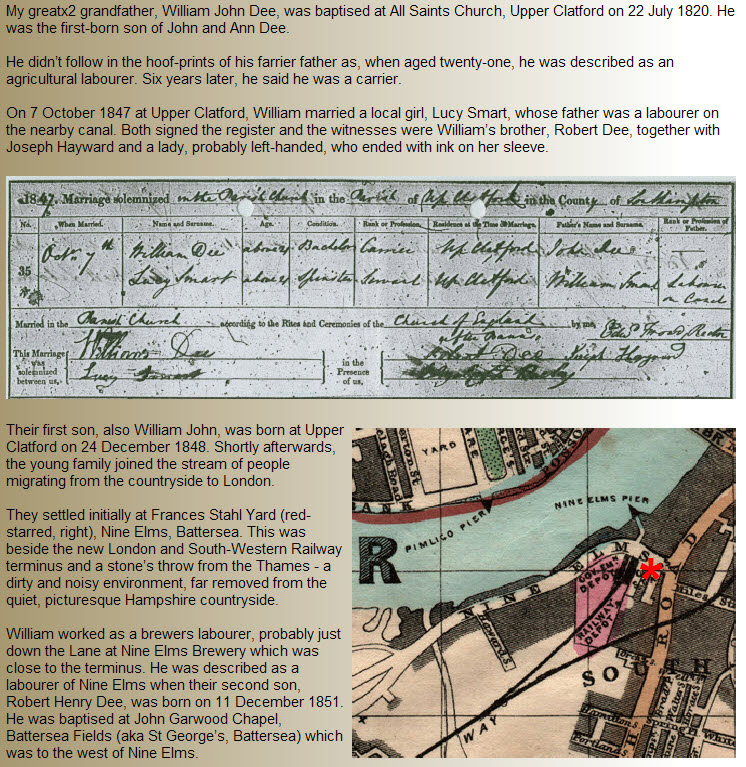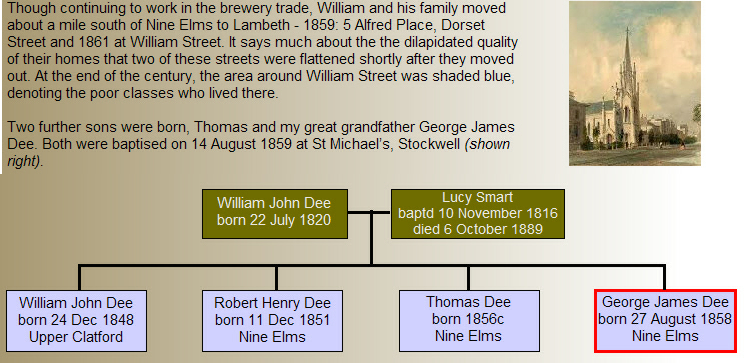 What befell William is a mystery - Lucy was described as a widow living in Clerkenwell in 1871. Despite searching the Death Indexes and burials in London, I can't find a record of his demise. What is apparent is that William left the world of the brewery and was employed as a railway policeman. When his sons' married in the 1870's, their father was variously described as, 'railway servant', 'railway policemen' and 'railway inspector'. He was also said to be a 'farmer' in 1882 - I suspect he was posthumously promoted when his youngest sons married. So, perhaps William was killed in a railway accident. The National Archives does not hold records of railway policemen and there were sufficient railway companies as to make searching for his employment records like looking for a siding at Clapham Junction.
By 1871, Lucy Dee had moved north of the river and together with her son, George and her nephew, William Carver from Clatford, she was sharing the house at 40 Gee Street, Clerkenwell with three other families and working as a charwoman or cleaning lady.
Ten years later, in 1881, mother and son were still together, but had moved to 85 Glenarm Road, Stoke Newington. George was supporting his mother.
Lucy died from senile decay and cerebral effusion (fluid around the brain) on 6 October 1889 at George's home above the shop at 119 Church Road, Stoke Newington. The following day, she was buried across the road at Abney Park Cemetery.
On another occasion, William was also in a financial position to provide surety of £100 for a Marriage Bond for the Clatford blacksmith, William Knowles and his wife, Elizabeth. Such a Bond affirms that the particulars of a marriage allegation were true and that there was no reason for the union not to proceed. This considerable sum is the equivalent of five years wages for an farm worker.
Perhaps William's fortune was helped by a thrifty nature - in his will he stipulated that he should be buried in a 'decent and frugal manner'.