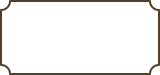 William and Emily Courtney
Will was born on 15 October 1883 at Bishops Nympton, Devon. By 1901, he too had crossed the Bristol Channel and was living with his eldest brother, George Courtney above the shop at 36 Commercial Road, Talywain. Ten years later, and aged twenty-eight, he had married, was the father of two boys and had been installed as the manager of one of George's shops at 11 Machine Meadows, Freeholdland, above which they lived. When he died on 21 July 1923, he and his family were still living there.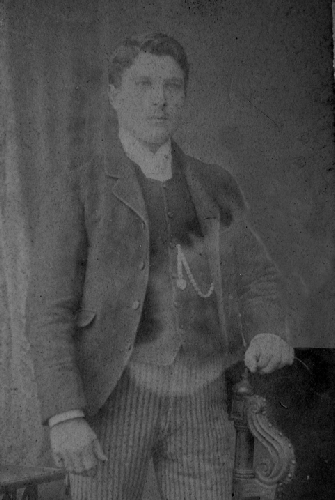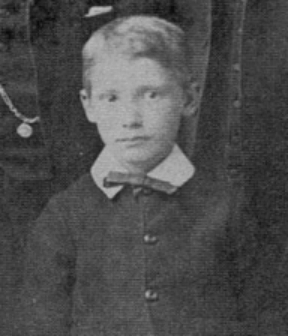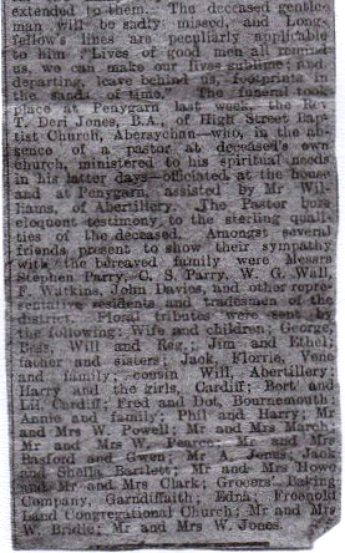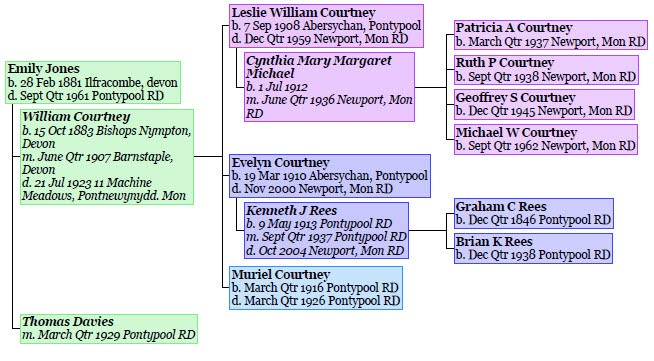 William migrated to South Wales between 1891 and 1901 and was living and helping his brother, George, in his shop at 36 Commercial Road, Talywain. He was managing one of his brother, George's, shops at 11 Machine Meadows, Pontnewynydd in 1911 and was still there when he died in 1923. Will was 'of a retiring and unassuming disposition, but took a keen interest in social questions, was deeply religious and in temperament viewed all questions from this stand-point. His newspaper obituary (below) provides an insight into the circumstances of his early death and a resume of his short life:

Of William and Emily Courtney's children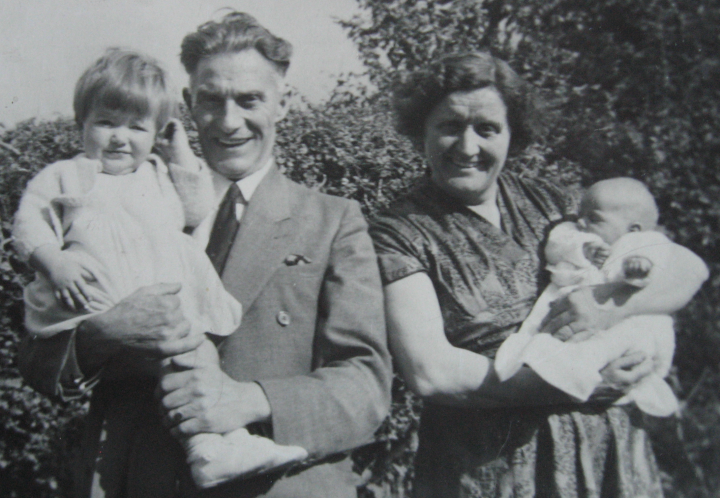 Leslie and (Cynthia) Mary are pictured above in around 1939. That year, the family were living at 2 Barnfort Road, Newport, Mon. And Leslie was working as a senior manager in a food manufacturing business.
When he died twenty years later on 16 December 1959, the family was living at 160 Stow Hill, Newport. He left effects of £3,870.
Evelyn Rees (nee Courtney) is shown here (right) in 1959, with Joyce Holmes (nee Courtney). Evelyn was a frequent visitor to Flo Courtney's home at Talywain and even into the 1970s, my wife and I fondly remember the sweets she kindly sent to us.
In 1939, Evelyn and Ken were living at 106 Kendal Drive, Slough, Bucks where Ken was an attendant in the first aid department of an aluminium stamping factory.
Meanwhile their first son, one-year-old Brian, was being cared for by his grandmother, now Emily Davies, at 28 Penywain Street, Wainfelin, Pontypool (remember we are a month in to WW2, here). Later, Evelyn and Ken were to live at the home themselves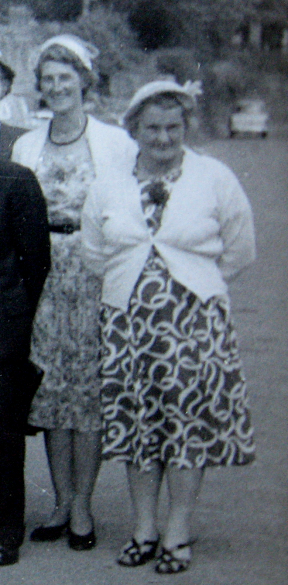 About Muriel Courtney who died in 1926, I have no information.

Richard Courtney (1886 - 1891)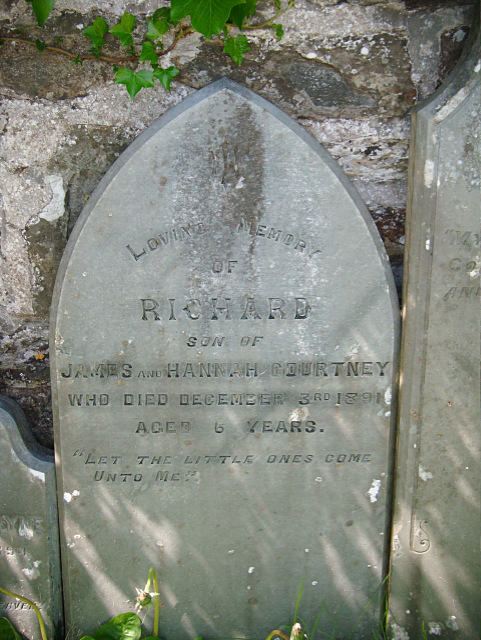 Richard died and was buried at South Moulton in 1891. He was kicked by a horse at Middle Champson Farm, Molland where his brother, George, was working.. The horse had a foal and when he went to see it, he was kicked.

Samuel and Lavinia (Vene) (nee Woolley) Courtney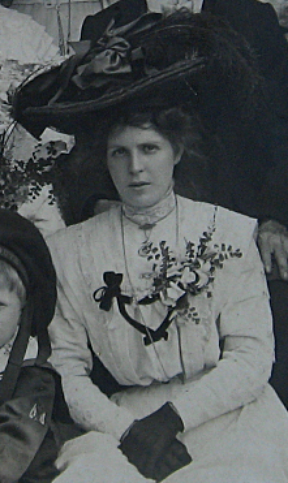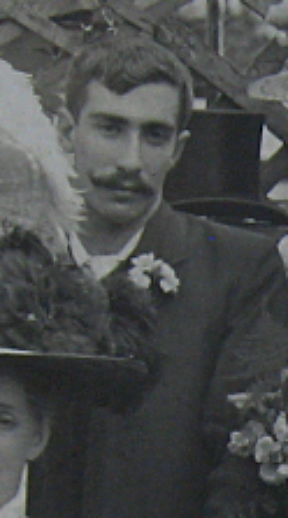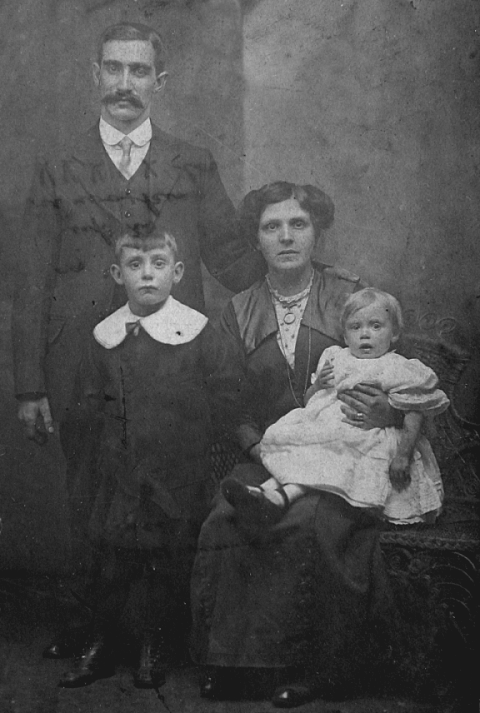 1914 - with Ronald Samuel (l) and Cyril John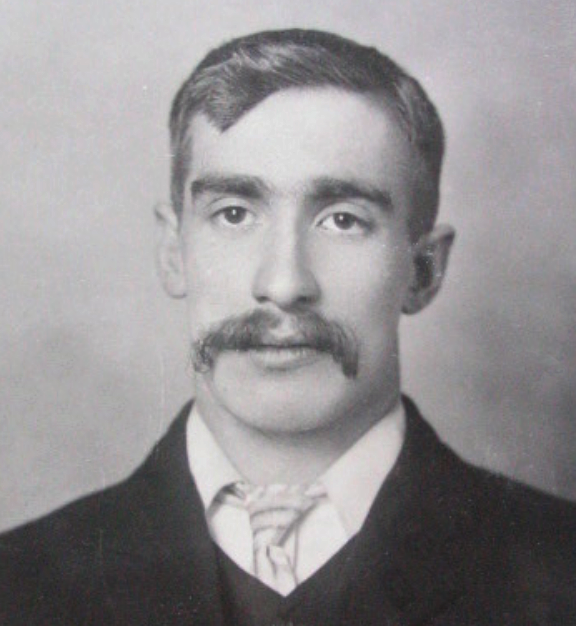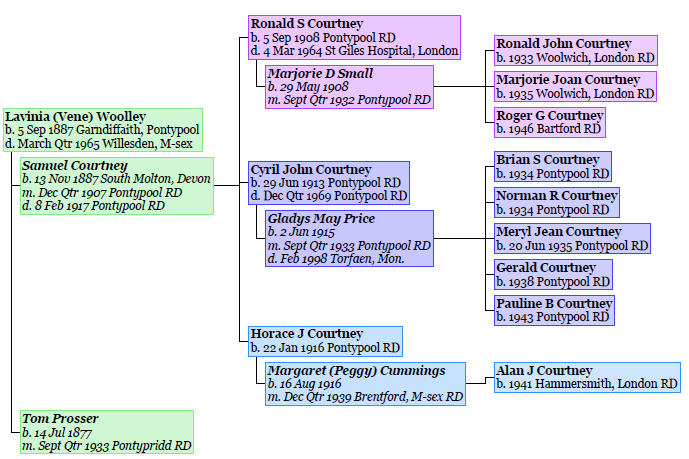 Samuel, aged 13, was working as an agricultural worker at Middle Champson Farm, Molland in 1891. Ten years later he had joined his brothers at Talywain. After a brief spell as a hairdresser in George Courtney's block of shops along Commercial Road (Lavinia is also recorded as a hairdresser there in Kelly's Directory), Samuel was assigned to be manager of Georges shop at 11 Machine Meadows, Freeholdland by 1911.
He was still living above the shop at his untimely death in 1917. It is hard to pin down where the shop would have been today. This area was known as 'Packman's Puzzle' because when the packman returned for his money for goods sold, the locals had switched their houses numbers to confuse him. Nevertheless, it may well have been the building shown right - the window was obviously part of a shop at one time.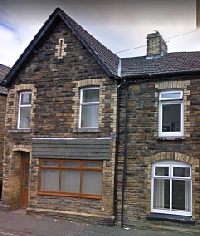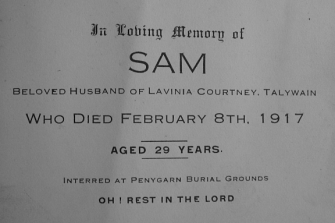 Lavinia remarried in 1933 and she and her new husband, Tom Prosser were living at 373a Uxbridge Road, Acton, London in 1939. Tom was working as a maintenance gardener. With them were Lavinia's sons, Horace (a radio cabinet worker) and Leslie (a public works labourer).
Meanwhile, her other son, (Ronald) Samuel attended Lower Garndiffaith, Victoria Infants School at Abersychan from 26 August 1912 and achieved an Applied Maths degree at Bangor University in the summer of 1929. He married at Pontnewynydd three years later (see below) and was working as a school master at Malling, Kent in 1939. He went on to become a headmaster before his early death at Greenwich.


David and Mary Ann (Polly) (nee Courtney) Harvey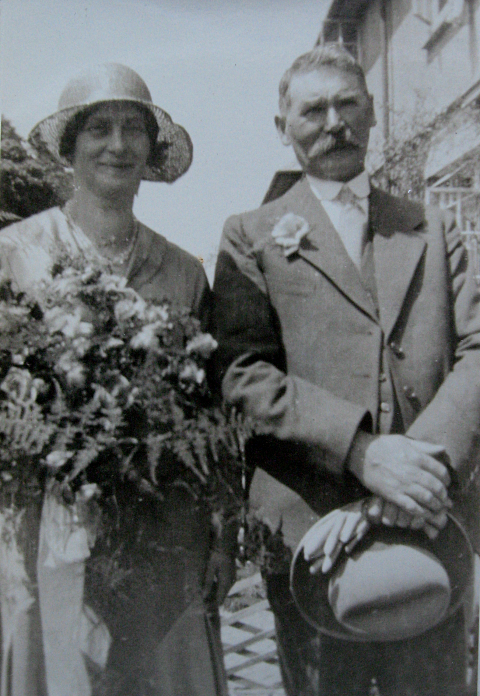 The tree tells its own story. David Harvey's first wife and only son died at Pontypool (maybe at Bleak House, Talywain) in the early 1920s. Polly and David met at Abersychan (where David was the Station Master) and married in 1932 - when Polly was forty-two years old and David was twenty years older than his bride. The photograph above was probably taken on their wedding day.
The records tell us that David worked his way up in the hierachy of the railways - 1891; porter at Williamstown, Llantrissant; 1901, Station Master at Llanharan; 1908, at Llanhilleth; 1911, Station Master at Talywain (below) and living with his first wife and son at Bleak House, Talywain (shown right). This was a seven-roomed detached house beside a small lane off Commercial Road. Jack and Flo Courtney had moved into Bleak House by 1921. Meanwhile, Polly, after living with her father at Molland in 1901,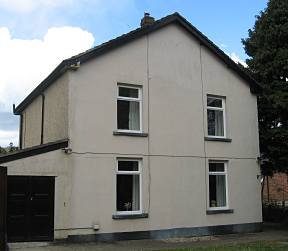 was a cook and domestic servant at a Vicarage in South Molton in 1911. David was then transferred to Hirwaun where was Station Master until 1932.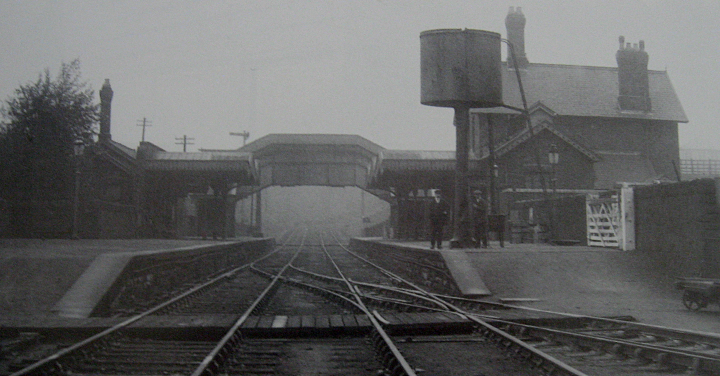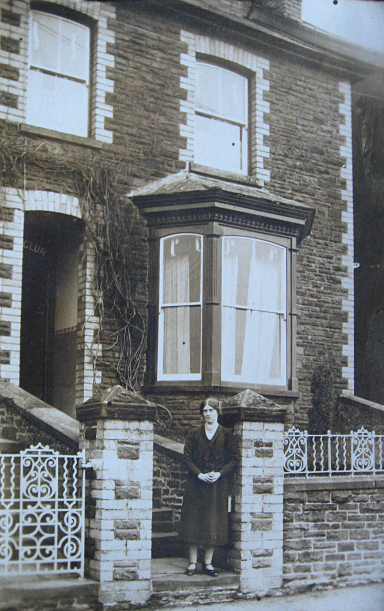 Following his retirement, David and Polly moved to 41 Chapel Road, Llanharan where David died in 1943. His estate (with effects of £1,490) was administered by Polly's brothers, Jim and John Courtney.
Polly and David then featured in several photographs at family gatherings and occasions such as the one below left - with Stanley and Rhoda Harris (her sister).
There are also several photos of No 41 featuring John (Jack) Courtneys family. It was still her home address when she died (leaving an estate of £3963) - although she was staying with her sister Hannah Crossman.
When Polly died, she bequeathed the property (which had become somewhat run-down) to her brother, Jack. His grandson, Eric Courtney, then bought the house for its probate value, paying 'as and when it was convenient', and began to renovate the home.
Later Cheryl Courtney and Meryl Reader, Jack's grand-daughters, shared a flat in the house.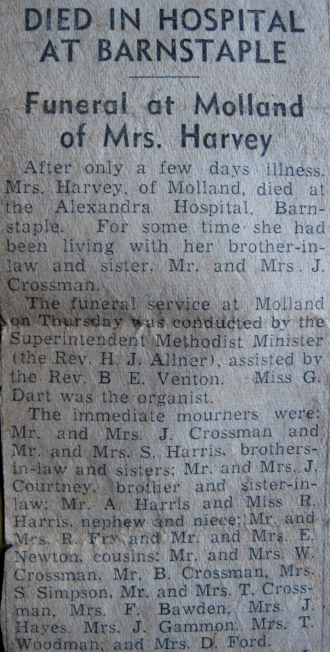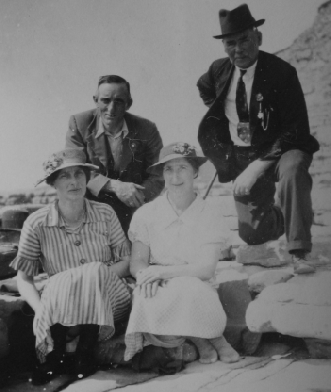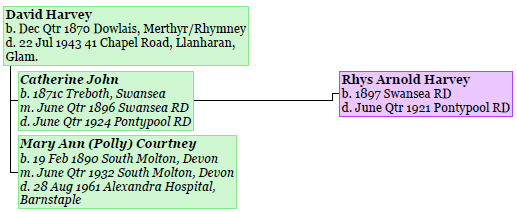 Stanley and Rhoda (nee Courtney) Harris
Both Rhoda and Stanley were born at South Molton in 1892. Nineteen years later in 1911, Rhoda was living with her father and married sister, Hannah, at Lower Woods, Molland and working as a housemaid. Stanley was an apprentice baker, living with his employer, William Hodge, at 130 East Street, South Molton.
During WW1, Stanley, now a fully-fledged baker, enlisted in the Army-branch, the Royal Flying Corps (which morphed into the RAF in April 1918) on 9 February 1916. His medical records noted some of his details - he was 5' 2½'' tall, less than eight stones in weight, had defective teeth, flat feet and the bridge of his nose was broken. He was assigned to the stores and his Service No was 53048.
Stanley first joined the RAF for duty on 4 January 1917 at White City, London when his address was Preston Cottage, Warkleigh, Umberleigh, North Devon. On 4 March 1919, he transferred to the Air Force Reserve, having signed a document the previous month that he had no disability due to military service. When his service ended, he was an Aircraftman (Storeman) Leading, working at Milton, Steventon, Berks. Again, there is a comment, "Casualties: nil' in his record. (There is also a note that he married Rhoda at Barnstable on 9 April 1917.) I mention this in detail because in 1939 Stanley's occupation was listed as "Army pensioner, incapacitated".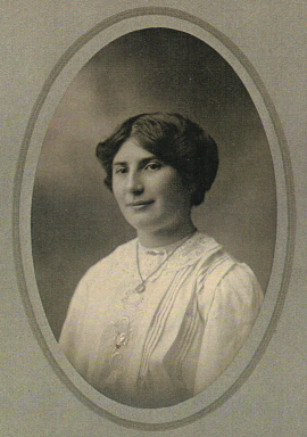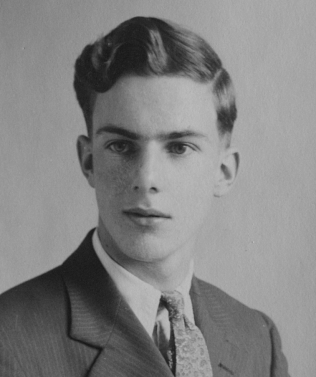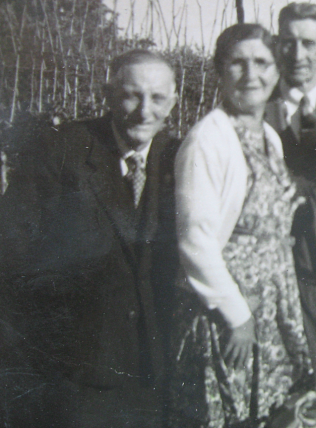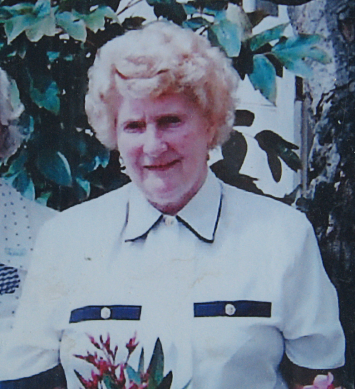 Rhoda and Stan with Jack Courtney
Rhoda and Stanley were living at 3 Fir Terrace, South Molton in 1939. They had moved to Newton Abbot, Devon by the time they died at the small terraced house, 40 Fairfield Terrace, They were buried at Wolborough Cemetery.