Grtx3 grandparents: John and Ann (nee Pring) Dee
The remnants of this scion of the Dee family which was left behind when William, the bankrupted
farrier, died at Upper Clatford in 1824 were grappling with problems of economic survival.
William junior (born in 1776), the eldest surviving son, is a mystery figure. I can find no reference to
his marriage or death and yet he kept notes of events in the lives of his close relatives.
Despite it being his responsibility, he was certainly not inclined to manage his father's estate in 1824,
assuming of course that he was alive and able - an assumption that probably shouldn't be made.
William's daughter, Elizabeth Dee, had her own problems, being a single mother with two illegitimate
children. Her brother, George, had already flown the coup, enlisting in the army (which probably
reflects his perceived prospects at Clatford) and when worn out from barking orders, settling about as
far north in England from Hampshire as it was possible to settle.
Which left John Dee in Upper Clatford. He was born on 11 April 1783 at Andover, Hampshire.
He was probably the "SON" in this news advertisement from December 1807:
John was thirty-six years old when he married an
Andover girl, Jill Pring (born October 1797 at
Andover and baptised 10 November 1797 - and
they travelled to South London to tie the nuptial
knot at St Marys, Newington, Southwark, Surrey
(right)
on 22 August 1819. A witness was Ann's
brother, William Pring.
The choice of church (far enough away from
Hampshire as to cause the researcher some
doubt as to the relevance of this wedding) may
well be because of its historical association with
the Pring family.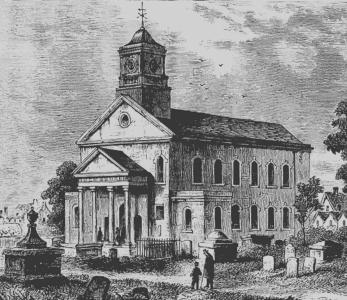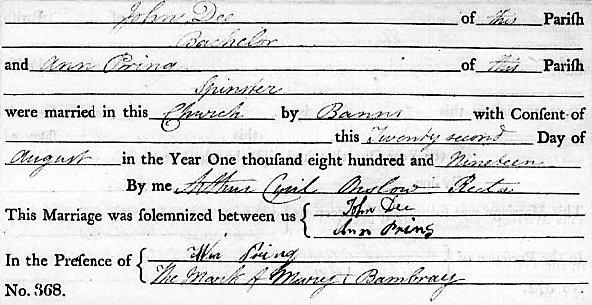 The couple had three sons, all of whom were baptised at Upper Clatford:
The next historical reference to John is his belated shouldering of the responsibility to settle his
father's estate in 1836, almost twelve years after his demise (Link:

William's will

). John was then
described as a labourer.
Four years later, John's leased cottage and land at Upper Clatford were described in the 1840 Tithe
Map and Award:

The cottage and land (No.98) was owned by Thomas Taplin and occupied seventeen perches which
equates to about 110 yards in length.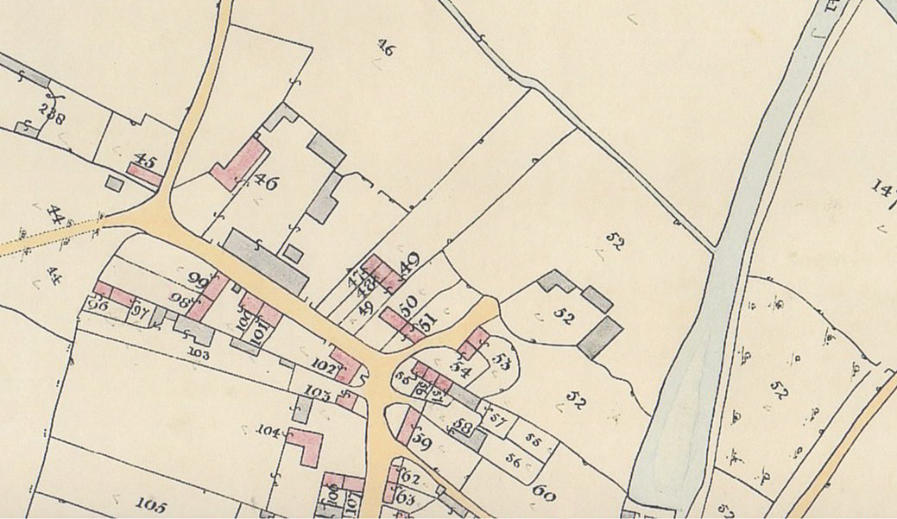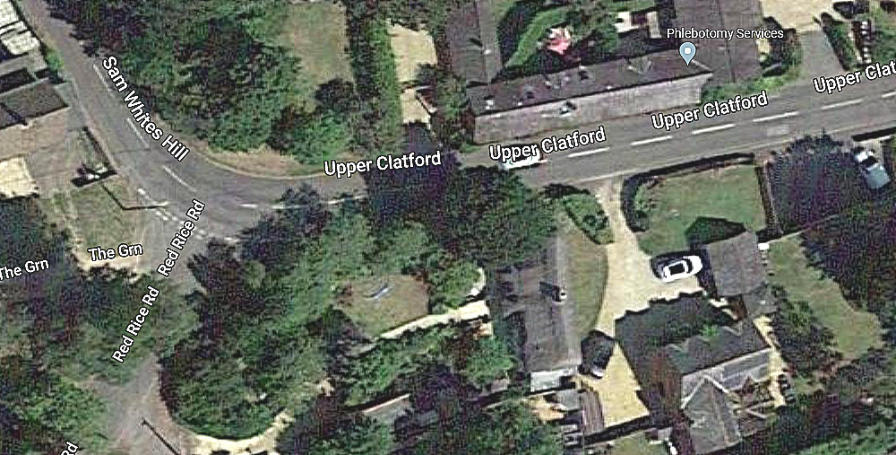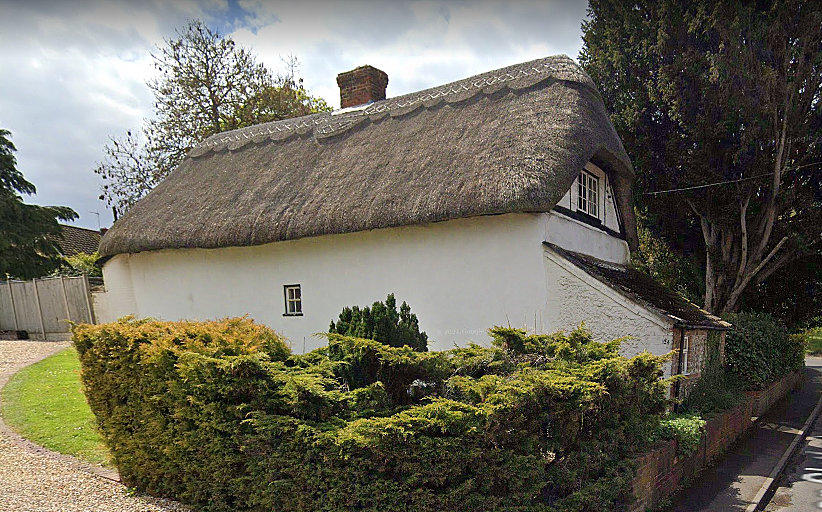 John's house (now amalgamated with its neighbour) still
stands today. "The cottage has a wealth of character
with exposed beams and timbers and the
accommodation comprises a sitting room with deep
inglenook fireplace.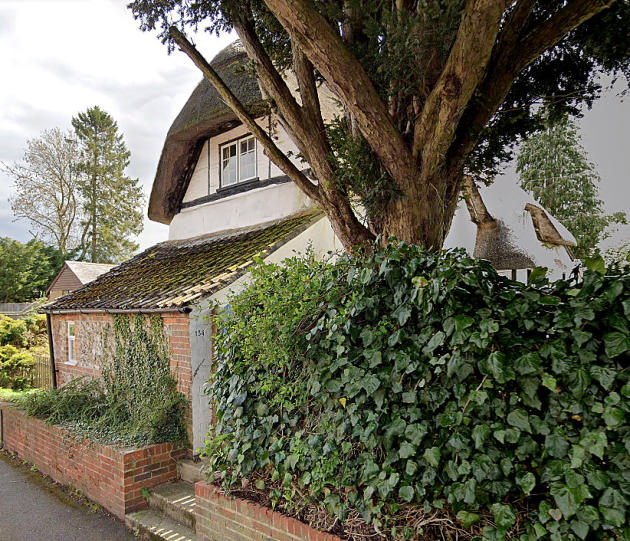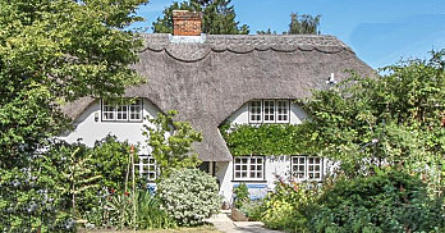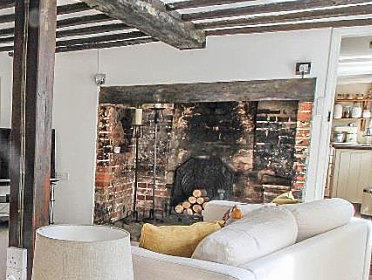 The 1841 census revealed that John's sons were not following the family traditional trade as farriers -
two were agricultural labourers and a third son was a servant at Clatford Rectory. John (although Ann
was absent) was living on the main street of the village with William Smart as his neighbour,
apparently. William's daughter, Lucy, was later to marry John's son, William John.

It was probably economic necessity that forced John and Ann to join the exodus from the Hampshire
countryside and move to London. When John died on 26 April 1854 after a week of paralysis
(probably following a stroke), he was living at 1 Elm Court, Holborn. He was described as a vet. The
informant of his death was his daughter-in-law, Lucy Dee who had made the journey from Nine Elms,
South London to be present when he died.
In 1861, the widowed Ann was living with her unmarried son, Thomas, now at 4 Elm Court (off Elm
Street), Holborn. Ann was a school mistress and Thomas, a brewers servant.
Elm Street was adjacent to Mount Pleasant (known today for its Post Office complex), a turning
off Grays Inn Road (now the A5200). Elm Court was off Elm Street as shown by Booth's Poverty
Map ca1886. Then the houses in the Court were described as three-story, multi-tenanted with
broken windows and birds in cages. The poor lived here earning between eighteen shillings and
a guinea a week. Note that Reid's Brewery was nearby and this perhaps was a likely location for
Thomas' place of work. Leather Lane and Hatton Garden were close by - off Clerkenwell Road.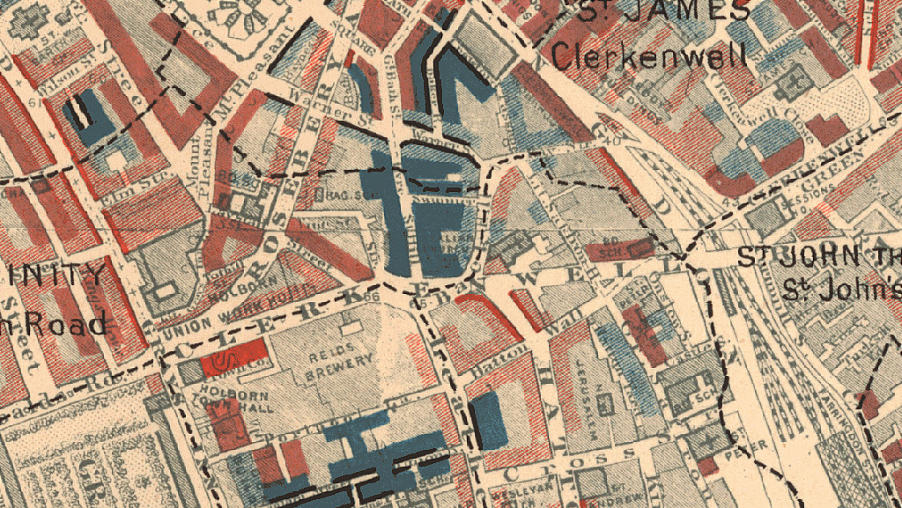 Ann Dee's final resting place cannot be described with confidence, although the death of an Annie
Elizabeth Dee at Holborn RD was registered in the March Quarter of 1862.
The children of John and Ann Dee
(born at (born Upper Clatford during 1825) has already been shown to be living at Elm Court,
Holborn, London. and working as a brewery servant.
He married Mary Dace at Holy Trinity, Grays Inn Road, Hackney on 18 November 1860. She was
born in the St Andrews area of Holborn in around 1832 and was living at Cross Street when she
married

(see map above).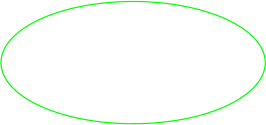 Mary was living still at Cross Street when the enumerator called in 1861 - while Thomas was visiting
his mother at Elm Court, as we have seen:


Mary brought two children to the marriage - Owen Dace (born in late 1851) and Eliza (June Qtr 1855).
In 1867, the family was living at 22 Liquorpond Street, which was the thoroughfare on which Reids
Brewery was situated. Thomas was described as a 'porter'.
In 1871, Thomas was noted as a carpenter and had produced four youngsters of his own - and
possibly two more had died in infancy, including Louisa Dee who was born on Boxing Day 1866 and
died during the spring of 1868: Jesse Emily Dee (born Dec Qtr 1864), Ann (6/1865), Harriet (3/1869)
and Frank Herbert (Henry) (6/1870). The family were living at 11 Summer Street, Holborn

(circled on
map above)
- this was comprised of 'old two storey houses, flush with pavement and inhabited by
labourers and hawkers'. It was a very poor area, 'casual with chronic want'.

The family were at the same address in 1881…..

…..but had moved to nearby 28 Warner Street, Holborn by 1891 where they had two rooms:

Thomas died in early 1895 - two years earlier, his daughter described him as a fish salesman. In
1882, he was also described as a fish monger. In 1901, Mary had daughters and grandchildren for
company at 3 St Peters Street, off the Ckerkenwell Road, Holborn:

Mary Dee junior died in the spring of 1902 and Mary senior passed away (aged 87) in early 1915 and
was buried at Camden on 6 March. She was born, lived and died all within a small district of St
Andrews, Holborn.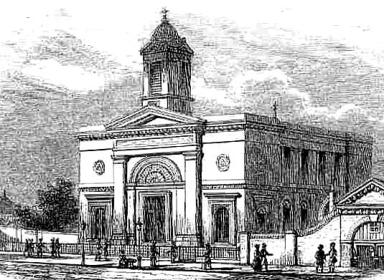 Thomas and Mary were lax when it came to having their
children baptised. They were christened in Holy Trinity,
Grays Inn Road (shown right, where the couple were
married) but only Louisa, Emily and Anne were baptised
- and all three, during 1867. At least two children died in
infancy - Louisa (1) and Henry (5) and perhaps their first
born, Thomas also died when a baby.

1871 census at 11 Summer Street
Marriage certificates of Emily and Harriet Dee
(born at Upper Clatford in 1882). As mentioned earlier, Robert was a servant at
Clatford Rectory in 1841 and from then his was a life of service.
In 1851, he was noted as a footman in the household of Archibald F Paxton, (born ca1804) a former
Lieutenant in the 11th Dragoons who was living at Cholderton Hall, Wiltshire. Robert was to serve
Archibald and his wife until he retired in the 1890s.
The 1861 census is significant:

Robert has graduated to being a butler and included in the household is Emmeline Stride, a
housemaid. Robert married Emmeline on 19 January 1863 at Holy Trinity, Marylebone Road, London:



In 1871, Archibold was residing at his London
Home at the prestigious 5 Devonshire Place
(shown right)
and continuing to be served by his
butler, Robert.
Meanwhile, Emmeline was living in their home
near Cholderton Rectory with three children:
Florence Elizabeth (born 1863 at Christchurch,
Hants), Harry (1864) and Arthur Frederick (1869).
Another daughter, Amelia Gertrude, had also be
born in 1865, but died in 1868).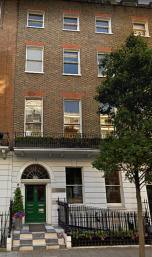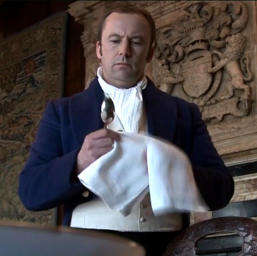 By 1881, Archibold had died and his widow
retained Robert as her butler at Cholderton Hall
(shown right).
Emmeline was still living in the
family home which was now identified as 1
Church Lane, Cholderton

(see right, below)

.
By 1891, Robert had retired and was living with
Emmeline with a grandson, Harry Dear for
company.
Harry was the daughter of Florence who married
Christopher Dear in 1888 - an curious
juxtaposition of surnames as my great
grandfather, George Dee married Annie
Dear, who had no known connection with the
Dears of London.
Christopher and Florrie were living next door to
Robert and Emmeline in the village Post Office
where he was a grocer and postmaster.
The 1891 census entry for the family is shown
below: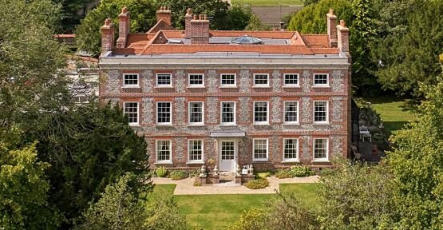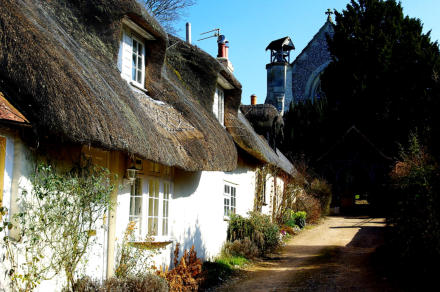 Robert died on 16 April 1900 and was buried at Cholderton on 19 April. His given age was seventy-
seven
Emmeline had the sadness of the death of her son, Arthur Frederick Dee in November 1902:


Emmeline died in August 1905 and was buried on 24 August:
Postscript:
After the death of the widow Elizabeth Paxton, Cholderton Hall was sold in 1887 and a
description of the mansion provides some insight into the house where both Robert and Emmeline
worked: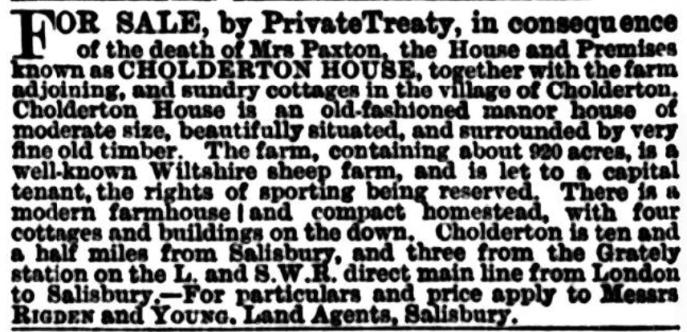 An article describing his life can be found at this link:

WmJDee