The Dees of Upper Clatford, Hampshire
For several years researches into my Dee ancestors faltered and eventually stalled completely.
I had established that my greatx5 grandfather was William Dee and that he was buried at
Upper Clatford in September 1771, aged seventy-seven. This meant that he was born in
around 1714, but I couldn't locate his baptism. Then, I received an email which provided the
missing link - that William's family lived in Henley-on-Thames.
This article focuses on my Dee family at Clatford in the leafy north Hampshire countryside.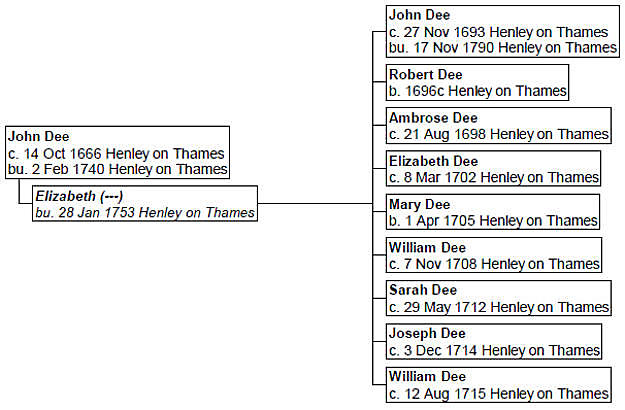 William Dee's baptism at Henley-on-Thames on 12 August 1715
He was born in the adjoining parish of Rotherfield Greys
Many of William's family, including his brother, John Dee, were brick-builders and/or stonemasons,
indeed they built (and owned) several houses in the town over the centuries. His father, John Dee snr
died in 1740, when William was around twenty-four years of age. Here is an epitome of his will:
Dated 21 November 1639 and proved on 23 May 1640), than from any other source. Described as a
bricklayer, he bequeathed 20/- to his son, John Dee; 40/- to his son Robert; £10 to his daughter, Mary,
wife of Edward Taylor; to his wife Elizabeth Dee, his house in Duck Street (sic) and his two houses in
Friday Street on the Rotherfield Grays side occupied by William Gale and William Berris; to his son
Ambrose, his house in Duck Street and to his daughters Elizabeth Rakestraw and Sarah Dee, the
houses in Friday Street following his wife's death.
John had nine children, of whom at least two had predeceased him. Of the remaining seven, six were
mentioned in his will. Only William was ignored.
At this distance and with no clues, we don't know the reason for the snub or whether William quit
Henley before or after his father's death and as a consequence of receiving no inheritance. But it is
apparent that there had been a falling-out between father and his youngest son? William did not
follow the family trade as a bricklayer and six years later married fifty miles away from Henley.
Yet Wiiliam was not completely ostracized by or isolated from his family. His will appointed his brother,
John Dee, as one of his executors. This implies a closeness, trust and communication with William's
Henley family
William married Anne Dowling (who was from an old, local family of farmers - an indication of his
standing in the community) at All Saints, Upper Clatford

(below)

on 30 December 1746.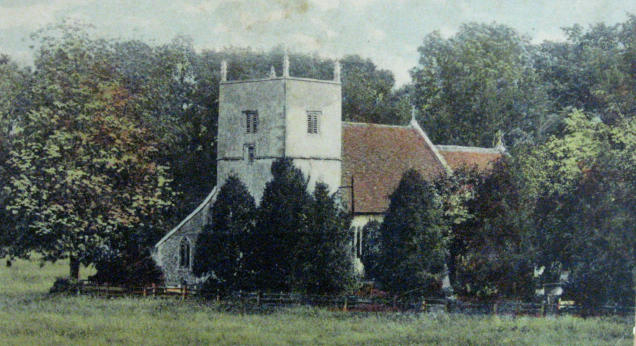 William Dee (of the parish of Andover) and Anne Dowling'(of Upper Clatford)
were married by licence at All Saints, Upper Clatford on 30 December 1746
William and Anne's first-born son, Thomas Dee, was baptised in his mother's home parish of Upper
Clatford on 23 November 1747:

A second son, William, was baptised at Upper Clatford on 24 April 1750. From the evidence of
William's will (a primary source), a daughter, Mary, was also born to the couple.

William's will states that he was a horse doctor of Upper Clatford. It would appear from this that he
lived in the village from the time of his marriage.
Whether dragging ploughs or pulling carriages, horses were essential in eighteenth century Britain
and their health was a constant concern. When they were sick, call for the horse doctor!
It was his charge to keep horses pulling on the highways and working in the fields. He was what we
would call today a vet/farrier - a skilled craftsman who could prepare a horse's hoof for shoeing, fit the
shoe by nailing and then apply the finishing touches. There was an old saying - 'No hoof; no horse'
because the condition of horses depends on strong hooves to support them.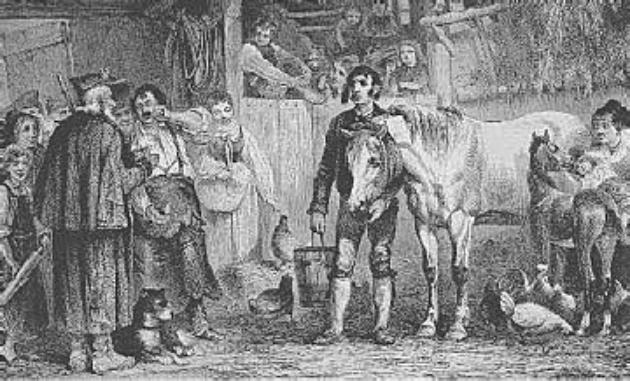 But the work of the horse doctor was far more complex. He was also responsible for horse's teeth.
These are constantly growing and sometimes wear into sharp edges and points which cut lips and
rake the sides of mouths. The result is a horse which is difficult to control and which loses weight
because it is unable to chew food. Among the horse doctor's tools was an eighteen inch rasp with a
wooden handle and rounded edges which removed rough edges. Unlike humans visits to the dentist,
horses seem to find the filing of their teeth soporific.
Horse doctors also had potions and recipes to deal with disease, purging, cholic, worms, the
staggers, broken wind and other disgusting equine ailments. Many were the buckets of mash which
were mixed. Also, if horses went lame or were foaling, then the horse doctor was summoned.
Several later writers drew attention to one noticeable aspect of the horse doctor - 'He sure smells like
a horse doctor!'. Mark Twain wrote: 'The horse doctor came. In the matter of smell he was pretty
aromatic - in fact quite horsey.'
In the nineteenth century, horse doctors became known as farriers who specifically shod horses with
shoes made by the blacksmith. The general well-being of horses became the speciality of the vet.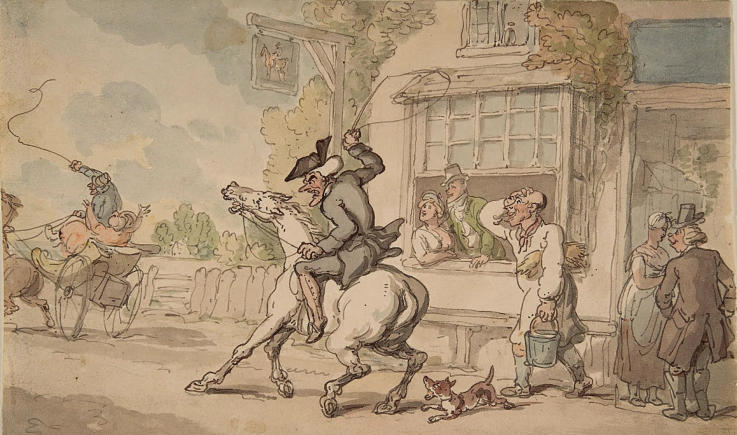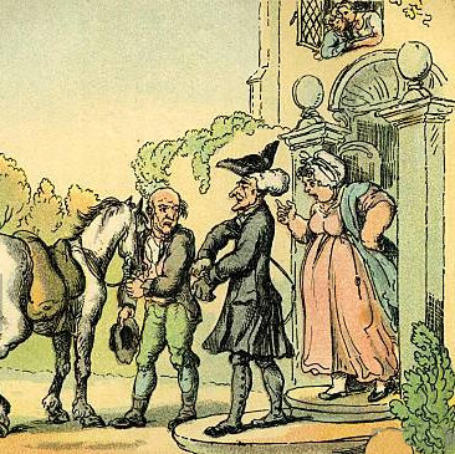 Anne was the daughter of Thomas and Margaret Dowling who was baptised at Upper Clatford on 3
October 1723:
Two details in these images are of interest. The horse doctor is working out of an inn in one image
(see William Dee jnr) - and how well-dressed the horse doctors are in two of them. There are a few
signs that William had some financial fortune. He was literate, signing his will. His estate was large
enough to justify a will - and his children could afford a headstone. When he and Anne married, they
did so, not after the reading of banns in church, but by licence which was obtained from the diocesan
consistory court - a method of observing the legal niceties which was often preferred by more affluent
families. William's father-in-law, Thomas Dowling, was a local yeoman farmer and would have
preferred his daughter to marry within his social class.
On another occasion, William was also in a financial position to provide surety of £100 for a Marriage
Bond for the Clatford blacksmith, William Knowles and his wife, Elizabeth. Such a Bond affirms that
the particulars of a marriage allegation were true and that there was no reason for the union not to
proceed. This considerable sum is the equivalent of five years wages for an farm worker.
Perhaps William's fortune was helped by a thrifty nature - in his will he stipulated that he should be
buried in a 'decent and frugal manner'

Ironically, it was William's death which initially furnished most of the information about his life - from
his will and a readable headstone still stands, although gradually sinking, in the graveyard of the local
parish church close to its doorway. So, what can be gleaned from these sources?
His monumental inscription, which is still visible, helpfully records that he died on 23 September 1771,
aged fifty-five - so William was born in 1715 -16.
William Dee's (a farrier) burial noted in 1771 at Upper Clatford
An epitome of William Dee's will:
It was dated 6 March 1768.
William was a 'horse doctor from Upper Clatford'.
He was 'weak in body'.
His brother, John Dee, and his brother-in-law, Thomas Dowling were nominated as his
executors. William's estate was to be equally divided between his two sons, Thomas and
William Dee.
His unmarried daughter, Mary Dee (who was living with him in 1768), was left £5 to 'buy her
mourning' (clothes) and a guinea to buy a mourning ring. She was also to inherit William's
late wife's side-saddle and bridle.
William lingered for three years being 'weak in body'. He died young, being age fifty-five. Anne died
when she was aged around thirty-eight. Her monumental inscription states that she was buried on 28
January 1761.
He had a brother, John Dee. John was the first-born of their parents, born in 1693 and buried at
Henley in November 1790. Being almost eighty-years old, perhaps the commute to Clatford would
have been challenging. It was only because of this important reference to John that we are able to
establish the Dee family's connection to Henley.
A joint executor was his gentleman farmer, brother-in-law, Thomas Dowling - a man of such standing
that his large headstone is immediately beside the entrance to Upper Clatford church (with Anne and
William just behind).
William and Anne's surviving children included, and probably only consisted of, Thomas, William and
Mary. This is the only record of Mary relationship to William that I can find. She was single in 1768
and probably born in the early 1750s. In the absence of her mother, she was likely caring for the
family home. The mourning ring she was to buy was a common memorial among the more affluent of
the time. It often bore the name and date of death of the person, and possibly an image of them, or a
motto. Stones mounted on the rings were usually black. It also saw some use when the person being
mourned had not married. In some cases a lock of hair of the deceased person would be
incorporated into the ring.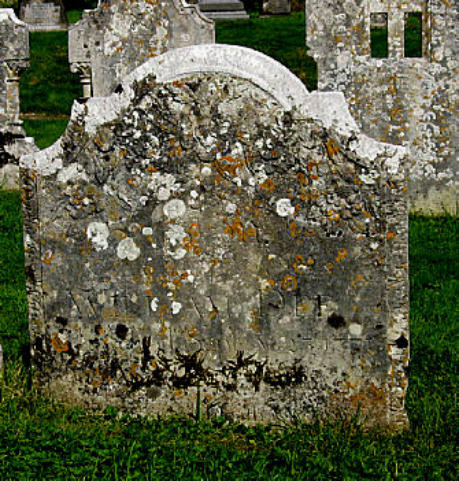 "William Dee" The location of his grave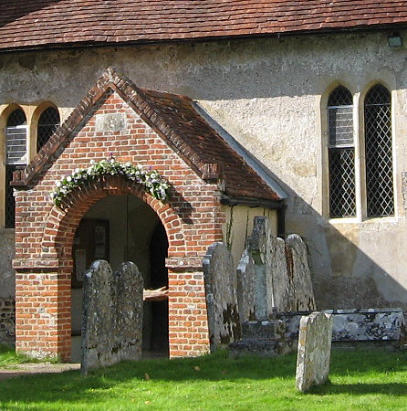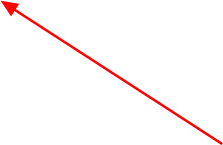 One final comment: William was likely an efficient horse doctor. As he served Clatford and the
surrounding area, had he not been effective, he would have been quickly 'found out'.
Grtx5 grandparents: William and Anne (nee Dowling) Dee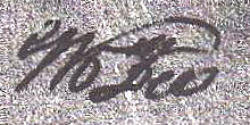 William Dee's will and signature.
Click on this link to view his will.
William Dee's son, Thomas Dee baptised 23 November 1747 at Upper Clatford
The first glimpse of Thomas is his marriage at Newbury, Berks to the widow, Ann Fabian on
10 July 1774. For two obvious reasons, it is probable that Ann's maiden name was Hornblow: one of
the witnesses at their wedding was John Hornblo (sic) and their second son was William Hornblow
Dee.
Ann had been the wife of a surgeon in Reading and after his death she decided to continue their
family business: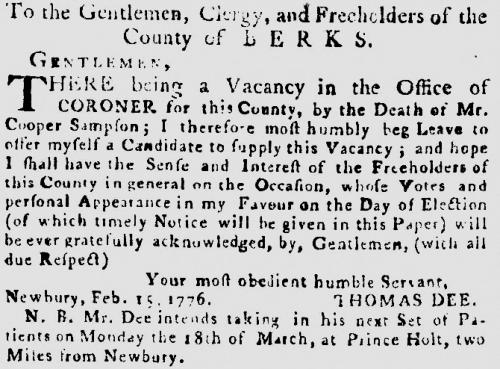 Reading Mercury, March 1775
Reading Mercury February, March 1776

Reading Mercury, November 1775
Thomas' endeavour to become the Coroner of Berkshire was unsuccessful. He was competing with
at least three other applicants who also advertised their aspirations. Nevertheless, Thomas'
application shows ambition and the level of his expertise.
Between 1775 and 1779, the couple produced two sons, Thomas jnr and William Dee. Both were to
become surgeons in their own right.
By October 1789, Thomas and his family had moved back to Hampshire and were living near Upper
Clatford at Weyhill. He was an expert witness at a trial in the parish: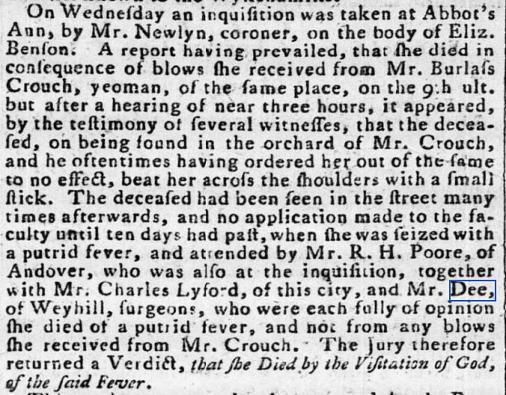 Thomas' will describes him as a surgeon and this together with his marriage at Newbury in 1774 leads
us to these press cuttings:

Reading Mercury, November 1773
Edward Fabian's earlier advertisements help us to understand what the duties of a surgeon included.
He was a 'man-midwife' and gave innoculations against distemper.
Did Thomas join her first as her business partner and later as her marriage partner?
Thomas next enters the annals of history when the will of an Ann Dee of Weyhill, Hants was
published. This is an epitome:
Ann Dee's will was made on 28 October 1795 and proved on 28 May 1801.
She bequeathed £5 to her god-daughter Mary Ann Strange
She bequeathed £10 each to Mary, William and Thomas Tippen (sic), the children
of her daughter-in-law, Mary Tippen (see below).
The residue of her estate was left to Thomas Dee, surgeon of Weyhill.
(Note that no relationship to Thomas is mentioned. William Dee, Thomas' brother
refers to Ann as an 'Aunt' in his diary)

Mary Dee (a spinster) married the widower, William Tippin, at Henley-on-Thames on 8 January 1774.
John and Ann Dee were witnesses.
The link between Ann and Thomas Dee shown by Ann's will is significant. Ann states in her will that
she was 'late of Henley-on-Thames'. When Mary Dee married William Tippin, she was recorded as
'of ye parish of Henley-upon-Thames. This confirms that the Dee family of Upper Clatford/Andover
and now Weyhill was a scion of the Dees of Henley, as has been previously established.
Thomas and Ann were buried at Stockbridge, Hants as shown by this transcription:

Ann's burial at Weyhill is a matter of record:
Ann, a widow, was born in 1706/07. It seems most probable that she married late (which would
explain why she left nothing to children in her will). There is a marriage of John Dee (a widower) to
Ann Fox at Henley on 4 December 1757. She is likely the Ann Dee who was at Weyhill. Her husband,
John, was the oldest brother of William Dee who was born at Henley in 1715 (and the executor of his
will). Ann truly was aunt to William's children who included Thomas Dee, born in 1747.


Thomas Dee's sons: Thomas Dee junior and William Dee - born between 1775 and 1779
Both Thomas and William were surgeons, thus following their father.
Thomas (born ca1775) married Mary Ann Compton at Weyhill on 3 June 1799.

Thomas and Mary Ann, and probably a son, Thomas, were buried at Amport, Hants:

Thomas left a short will in which he left his entire estate to his wife, Mary Ann.
Link:

Thomas Dee's Will
He was described as a surgeon in his will and living in the parish of Brougham, Hants.

Brougham is four miles from Stockbridge. There are references to Thomas in Brougham's Vestry
Book: 'Agreement of 1828 with Thomas Dee, surgeon, as to his fees for attending childbirth, broken
bones and dislocations, venereal disease and smallpox.' This adds to our knowledge of a surgeon's
work, Thomas and his brother William are also mentioned in the

History of Weyhill Hants and its
Ancient Fair (1922)
: "Thomas and William Dee, Surgeons of Weyhill,
undertook the duty for twelve
guineas per annum, excepting smallpox and midwifery, and all accidents that may happen in the fair in
the ensuing Michaelmas."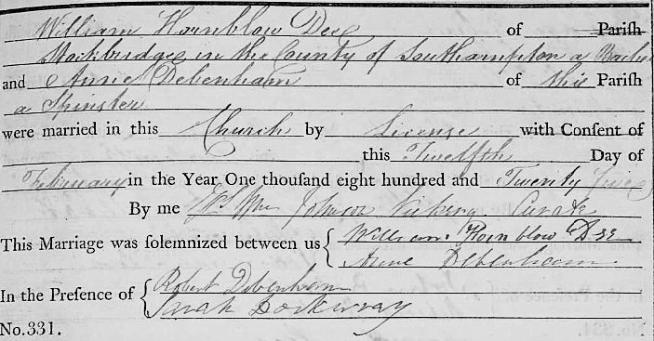 William Hornblow Dee was born in around 1779 and eventually married at St Pauls Covent Garden,
London on 12 February 1825, aged about 46:
William enjoyed married life for little more than three years, as he died and was buried on
7 June 1828 aged forty-nine at Stockbridge.
Epitome of William Hornblow Dee's will - of Stockbridge, Hants surgeon:
His will was made on 14 October 1826 and proved on 21 April 1831.
He left his entire estate (which included securities, plate, linen, and china) to his wife, Ann -
who was also to be his executor.
Grtx4 grandparents: William and Jane (nee Major) Dee
Here is as good a place as any to comment on sources of Hampshire Parish Records. The internet
sources are patchy and consist mainly of transcriptions which often don't include essential details.
However

,

Knightroots

is a reliable site for Hants PRs.

Family Search

has updated its holding and now
includes details from its Vital Records collection (ie not the IGI), which is where I found William Dee's
(jnr) marriage to Jane Major on 4 February 1773.
My holding consists of copies of the original PRs for Upper Clatford (UC) and Goodrich Clatford (GC)
from the 16thC; handwritten transcriptions of UC PRs to 1720; Bishops Transcripts - 1780 - 1812 and
1837 - 1865 UC; 1781 - GC. Transcriptions of GC PRs; the UC Manor Court minute book and record
1746 - 1830; UC map and tithe award; Monumental inscriptions for UC and GC; UC land tax
assessments from 1800; I've also got the complete Hants Genealogical Society collection of BMBs.
However, even with all of this, there are Dee events missing from the Anglican parish records possibly
because of ineptitude of the parish clerks and maybe because of a Non-conformist factor - Jane
Dee's father, Mungo Major, had his children baptised at an independent chapel at Andover. I cannot
find Mary Dee's baptism details or any other details of her. Another obstacle to research is that
Clatford is near the county border and some sources to Dee records are to be found in Wiltshire
perhaps. In short, this research is challenging - and I need to revisit Hampshire Archives to
investigate original Andover PRs.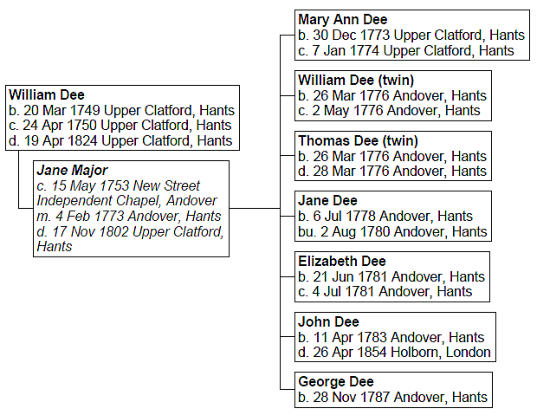 Parish records of William and Jane's baptisms at Upper Clatford on 24 April 1750
and New Street Independent Chapel, Andover on 15 May 1753 respectively

William Dee, junior was around twenty-one years old when his father died. He married two years later
and he and Jane had their first child, Mary Ann, in 1774. In the 1770s, business appeared to be
flourishing. A series of advertisements in the Salisbury and Winchester Journal during July 1775
trumpeted the services he offered from

The George

Inn

, Andover:

The George Inn
was in a prime position at Andover being in the centre of town near the Town Hall and
enjoying an historic heritage as one of the town's main coaching inns, having traded since 1586.
A stream of passing, trotting trade was there for the incumbent farrier/horse doctor/druggist. William
was the landlord of this tavern. In April 1780, when taking over the mortgage of a 'messuage on the
east side of New Street, Andover, William was described as an innholder. A contemporary record
confirms this stating, "Entered on

The George

Sept 20 1774. Quitted it June 24 1785".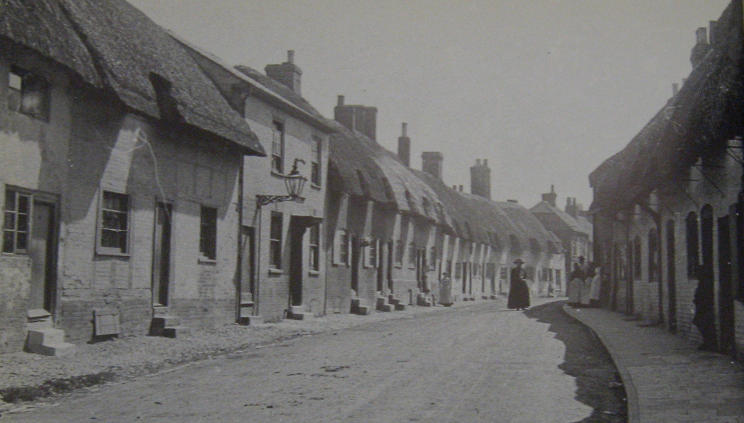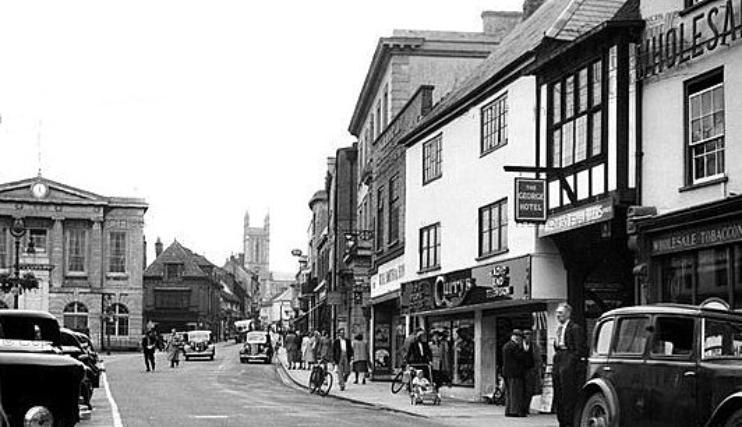 The location of the

George Inn

in relation to the Town Hall and Church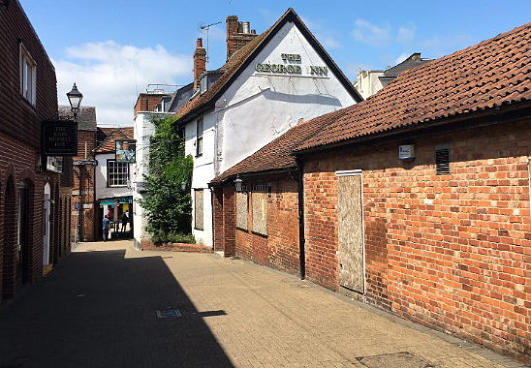 The rear of the

George Inn

with outbuildings/stables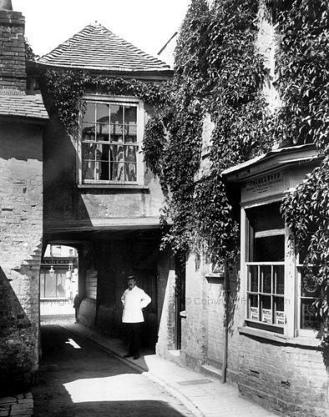 Entry in the Hampshire Directory of 1784
But William's business was in trouble by the mid-1780s. In September 1785, he sold a holding in
Winchester Street which was in his and Jane's name - this may have been part of her inheritance
from her father for her to be included in the document). Then, in June 1786, there was a single
advertisement in a local paper which made no mention of the

George Inn

and is shorter than the
earlier item:.

Followed by this announcement in the following month, July :


This note was carried by several papers throughout England, thereby announcing William's shame to
total strangers throughout the realm. Perhaps he wished that he had followed his brother Thomas'
path and worked with people rather than horses.
Yet William struggled on. This entry was made in the

Universal Directory

of 1792 under the heading of
Andover, Hants:

Between 1792 and 1808, William and his family left Andover and returned to his roots. When the
mortgage on the messuage at New Road, Andover was moved on from him to another in August 1808
he was a 'farrier of Upper Clatford' and not of Andover. He continued working - in October 1814, he is
listed as a creditor of the insolvent debtor, James Banks of Stockbridge, Hants (which gives an idea of
the area William covered, Stockbridge being seven miles from home). He was living in a cottage
owned by Miss Hooper, but occupied by Thomas Dowling according to the rate books. Here, William
died. The Court Baron of Upper Clatford noting the following in amongst the encroachments of the
highways and straying cattle in January 1826:


The ramifications of William's death rumbled on for a decade. He left no will. His estate had not been
settled and in 1836 his son, John Dee, was constrained to promise to administer his father's estate in
accordance with the law as its executor. This may speak volumes about the the Dee family that the
sons allowed this matter to drag on for so long. At least John was literate, signing the documents
shown below.
The resulting documents provide some relevant information. Jane had died before 1824 and
William's estate was valued at less than a paltry £20. John was described as a labourer. Another
document affirmed that William at the time of his death 'had not been possessed of or entitled to any
leasehold (property) for years'. This statement may confirm that they lived in Miss Hooper's cottage
courtesy of Thomas Dowling its occupier. The Dee star was on the wane.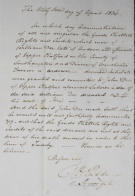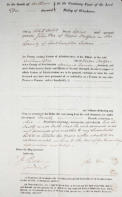 To see these documents, click on the links.
A note about Jane's death - it's reasonable to think that Jane was buried in her home parish of Upper
Clatford. Not only was she baptised there, but members of her close family were buried there and she
may have lived there during her final years. The last sighting of Jane is when she gave birth to her
youngest child in around 1787 at Andover. She therefore was buried between 1787 and 1824 when her
husband, William was buried (she having predeceased him). I have checked the burial PRs of Upper
Clatford from 1787 to 1812 and couldn't find her burial. But I did notice what appear to be gaps in the
record. There were ten or more burials at Upper Clatford in 1795, 1798 and 1807. Yet only one or two
burials in 1802 and 1810. Perhaps this suggests that either there was some reason for the high
number of deaths in those three years or the record was not kept scrupulously.
After writing this appraisal, I was told that a record existed of events in the Dee family's lives around
this time. It was written by William Dee (born 1776) and his son, William (born 1802). It confirms many
of the details of this article and also helps to link two branches of the Dee family together.
Among the facts mentioned were when precisely William was landlord of The George, Andover; the
death of 'Aunt' Ann Dee at Weyhill in 1801 (which was significant as this confirmed that this branch of
the Dees had migrated from Henley-on-Thames); when some Dees moved to London and also that
that Jane, wife of William had died 17 November 1802 at 7.00 pm.

I am grateful to Hilary D for
generously making this record available.
Selected children of William and Jane Dee

Eagle-eyed Ann R points out that Ann Dee's husband,

John Dee's will

(of Henley) is
available and consolidates what is written here. It was made on 2 June 1788. John
was a 'gentleman' who owned land and ten houses, including two in Friday Street
and two in Duke/Duck Street, Henley. Ann was the main beneficiary and included in
the will's beneficiaries are their daughter, Mary Tippin, Thomas Dee of Whayhill (sic)
and William Dee, now of Andover
"An examination of Elizabeth Dee of Clatford which took place in the City of New Sarum (Salisbury)
on 18 March 1805. Elizabeth stated that on or about 24 January 1804 she was delivered of a male
bastard child within the parish of Saint Edmund in this City which is now living and likely to be
chargeable to the same. Elizabeth declared under oath that Thomas Baily Silver of Upper Clatford, a
Gent, had carnal knowledge of her body."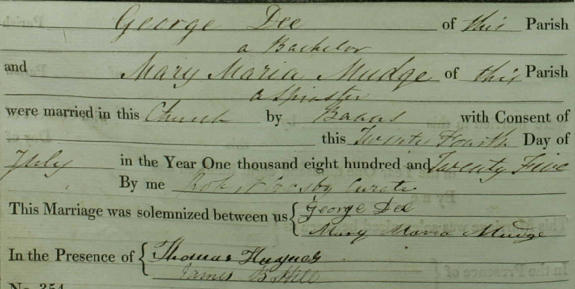 Elizabeth Dee
(born at Andover in 1781).
The 'male bastard child' was George Dee who was born on 24 January 1804 and baptised ten months
later at Salisbury, Wilts on 25 October 1804. His father was erroneously (but maybe deliberately)
recorded as 'George' - an entry which no doubt has been the cause of much head-scratching to Dee
hunters. In September 2010 I heard from one lady who had just returned to Australia from England
after visiting Dee sites of interest (but not Clatford seemingly) and emailed, '(I had to) contact you
straight away as I was so excited to see another person interested in the Dee family. It seems no-one
else is.' She descended from George Dee but during the ensuing exchange of information, no mention
was made of the identity of his father and her ancestor. Now we know why.
Thomas Baily Silver was baptised at Bishops Waltham, Hants on 1 February 1765. He married
Sarah Philpott at Chichester, Sussex on 20 March 1786 and initially settled in the beautiful
Hampshire village of Chalton where two children were baptised in around 1790. A son was baptised
at Compton, Sussex in 1801, but the family was soon ensconced at Upper Clatford and Thomas
appeared in its Tax Assessments ledger for the year to 5 April 1801. He was leasing the second
largest property in the parish,

Redrice,

and was accorded the distinction of being noted as a 'Mr':

Thomas died at Langstone, Hants in early 1819. His page-long will mentions his children, but not
George or Eliza.
George married Mary Maria Mudge at St Leonards, Shoreditch (which

was

visited by our lady from
Australia) on 24 July 1825: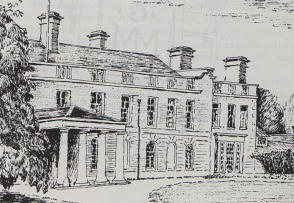 Thomas does not feature in the Tax ledger for the year to April
1806. Perhaps here we can see the hand of Mrs Silver.
George (a painter, later a painting trainer) and Mary were at Hanwell, M-sex when the enumerator
called in 1851 and at Croydon, Surrey in 1861:

George died in the summer of 1867 in the Brentford area of London. From the details of censuses, the
couple's children included Georgina Sarah (x1828), Hannah (born ca1840), George Silver (born 1842)
and Eliza Mary (born ca1843). Also born were George (x 1829), Thomas Robert, and William (x 1827).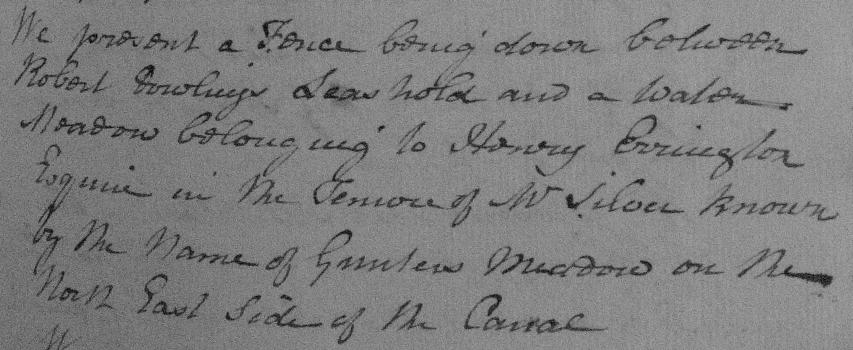 Thomas Silver's tenure of a house at Upper Clatford in 1801 was confirmed by this note in the Court
Baron: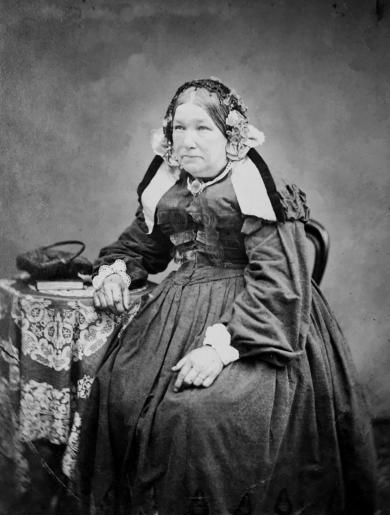 George and Mary Maria Dee -

courtesy of Hilary D
George Dee
(born 28 November 1787 at Andover, Hants)
George, a labourer aged twenty-five, enlisted in the 66th Berkshire Foot Regiment on 25 October
1803.
This was a heady time to be a soldier. The Napoleonic Wars were nearing their peak, culminating
with the Battle of Waterloo in 1815. Napoleon was first exiled, then escaped and finally imprisoned on
the island of St Helena.
The 66th First Battalion began to re-recruit in the summer of 1803. It served in Ceylon (1804), India
(1814), Nepal (1815), India (1817) and then guarded Napoleon at St Helena from 1817 until his death
in 1821. The regiment then returned home, via Dublin, where George was discharged on
1 June 1826 'worn out in the service'. Guarding Bonaparte was not necessarily a mere token activity
as he had earlier escaped from the island of Elba after being exiled there in 1814.
George's official papers indicate that his service path was as described above. They also state that
he was 5' 11'' (a tall man for the time), with sandy hair, grey eyes and a fresh complexion. He
gradually rose through the ranks until he was appointed as a drill sergeant. But all that shouting took
its toll. His discharge papers (which describe his conduct as "good") include this note:
"Sergeant George Dee is worn out and unfit for further service in consequence of
laborious duty during a residence of seventeen years in India and St Helena, fifteen
years of which he was employed as a drill. He was affected by dysentery several times
in Ceylon and Bengal and in St Helena he was most dangerously ill with the same
complaint under my care. From the constant and severe exertion of the vocal organs as
drill sergeant, he has often been ill with catarrh and ? and his lungs are much more
predisposed to disease".
After his discharge, George was a Chelsea pensioner. He settled in the north-east of England at
Sunderland and married a local girl, Rebecca, who was eighteen years his junior. The censuses
indicate that the couple had three children, Ann (born ca1831), William (ca1834) and Jane (ca1838).

1851 census at Sunderland
George (still a Chelsea pensioner, of Robinsons Lane, Sunderland) died on 26 July 1856 and was
buried at All Saints, Sunderland on 31 July 1856. Rebecca soldiered on, in receipt of an army pension
until her death, aged eighty, in 1886.
William Dee
(born at Andover on 26 March 1776, baptised 2 May 1776)
It is likely that this William Dee recorded much of the information about the Dee family, as mentioned
earlier. He wrote of his own birth and that of his twin, Thomas:

Here are noted the approximate times of the births of the boys during what was a protracted labour.
Sadly Thomas only lived for three days.
William also provides details of four births in the Dee family:

The births are in date order.
William's birth was on 5 November 18

0

2 - the nought is badly formed. This was confirmed when he
died in September 1854, aged fifty-two

(see later)

. Logically, his father was William Dee (born 1776)
- there were only three surviving Dee sons in this family and John (born 1783) and George (1787)
were probably too young to have sired a child, being nineteen and fifteen in November 1802.
George and probably Eliza's mother was Elizabeth Dee, as has already been discussed. Eliza went
to London with her cousin, William, in May 1825, as William jnr stated - the journey taking parts of
three days, which suggests they were living in the Andover area:

John Dee's father cannot be identified confidently.
This leaves only William Dee for comment. He married Hannah Chappill at St Martin-In-The-Fields,
Westminster

on 28 April 1829. George Dee was a witness: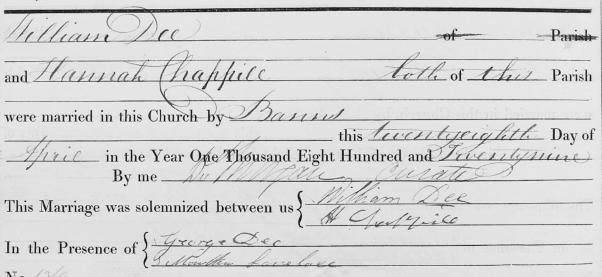 It is likely that Thomas again 'had carnal knowledge' of Elizabeth's body. According to the notes
passed down relating to the Dee family, an Eliza Dee was born on 13 December 1806. When she
married at St Leonards, Shoreditch on 9 October 1831, her name was significantly recorded as Eliza
Silver
Dee.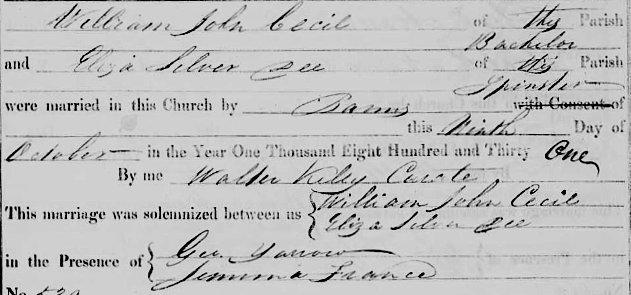 The 1851 census confirms this is the Eliza Dee in the notes as Eliza Cecil is recorded as being
forty-four years old - therefore born in 1806/07. The couple had settled at 27 Lower Arcade, Bristol:


It would appear from these documents that Elizabeth and Thomas Silver were willing parties to their
relationship and that the record at Salisbury quoted earlier has more to do with Elizabeth's living in
the city and being chargeable to it in the event of need than an indictment of Thomas.
In 1851, William was a widower and steward/servant in the household of HRH the Duchess of
Gloucester at St Georges, Hanover Square, Westminster. He died and was buried in the parish on
14 September 1854. Hannah had pre-deceased him and was buried at All Souls, Kensal Green:


William and Hannah had seven known children: Jane (x 9 Dec 1831), William (x 3 November 1833),
George Barnard (bn 26 December 1834), Ann (x 21 December 1836), John (bn 4 December 1839),
Charles (x 21 May 1841) and George Dee (bn 16 6 1842). George Dee married his cousin, Eliza Mary
Dee at St Andrews, Holborn, London on 3 June 1865:


Finally, the fact that William (born 1802) and George Dee (1804), and their grandparents William and
Jane Dee are most certainly related to my line (which proceeds from the latter via John Dee (1784)
is the incontrovertible testimony of DNA. My DNA is a match with a descendant of William Dee
(1802):

My Ancestry DNA User Name is Philip Wray. If anyone reading this also has a DNA match with us, I
would be grateful if you would let me know, please.
(Contact: p.wray@hotmail.co.uk)